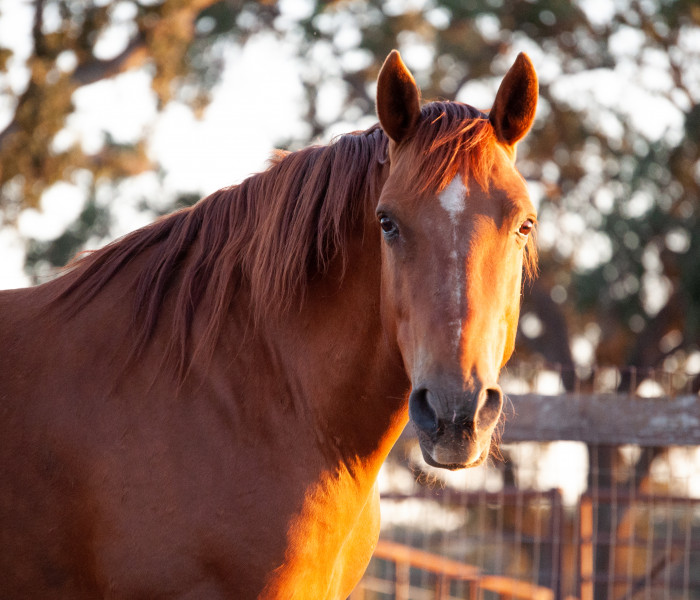 Ambassadors

Peacemaker

Foal Yr: 2010
Height: 16.1H
Tag: 7361
Color: Chestnut
Origin: Onaqui Herd

Sweetbeau Mustang Ambassador - Peacemaker broke all our criteria for a program horse. When I first laid eyes on him, he was at the BLM Delta, UT holding pen, quietly standing between Ghost and those of us outside the corral trying to see the infamous Ghost. Unusually huge in size for a mustang, Peacemaker showed no fear, aggression, or even much concern for his situation.

Because he was a 10-year-old stud, statistics say he should have stayed in long-term holding, or because of his size, would have been a quick pick for one of the "fake" adopters who keep the horses a year and then sell them at auction to the kill buyers.

But that was not to be his fate and here is why.

Ghost was a famous stallion that I had agreed to adopt into our program. As I approached Ghosts' holding pen, this very large red sorrel calmly stood closer to the bars than any other horse and unmistakably was posted in front of Ghost. Unlike the other horses that were startled, spooking, running to the back of the pen, he stood like a sentinel over Ghost who clearly wanted nothing to do with his surroundings.

As I watched, a black horse from the pen next to them suddenly lunged over the pipe corral at Ghost. The black horse reared at the fence showing teeth and striking in battle mode. Ghost reacted in kind and a loud banging of metal bars resounded under their striking hooves. That is when I saw the big red guy pull himself up to full size, arching his neck and turn toward the ruckus. He slowly but confidently marched to the fence where the battle continued. With his heavily muscled neck arched high, he forcefully stomped his right hoof on the ground twice. And in a behavior, I had never seen before, he then held that hoof about 1 foot above the ground, pointing his leg at Ghost's attacker. The dark intruder immediately dropped to the ground and walked away. And as though nothing had happened, the big red horse resumed his post. Ghost dropped his head to continue his internal misery. Just like that, the moment was over, and it had returned to the ever-present quiet sound of despair. I was speechless. I looked around to see if anyone else had witnessed this behavior. No, I was alone…was this a "gift" meant just for me? I thought of the big red stallion as a peacemaker at that very moment. Out of curiosity I looked him up and saw that he was from the north herd in the Onaqui mountains. And yes, he was already 10 years old and was still a stallion. That was not even close to a good fit for our training and adoption program. I moved on, going about my business of bidding on 5 horses including Ghost, and arranging for their transportation to California. The day was long, and I was happy to find my seat on the plane taking me home. The sun was setting as we waited on the tarmac, and I involuntarily began reliving the painful moments of the day, (because there is never a feeling of great accomplishment when you must leave so many desperate horses behind). Details of the big red's behavior replayed over and over in my head. I wondered what he was thinking…his protective behavior was not violent or even aggressive. It was almost showing respect, an understanding, persuasive but not punishing, even reverent. Under such horrible conditions, the other horses were clearly shaken and unsettled, angry or shut down. He didn't appear to be any of those things. He seemed to put his own worries aside for the greater good of the "herd". He haunted me constantly the entire week when I got back to the ranch. I was finally very clear about what was meant to be. I called the people at the holding facility and told them I would be taking him. "Do you want him gelded?" they asked. That was a must. The 5 horses we had adopted had arrived home, but Peacemaker would be held when BLM shut down because of Covid. He lingered 6 more months until he finally stepped foot on our ranch. He was bigger than before. Still a full 16.1h but had gained at least 100 lbs. from free feeding and standing all day which put him at about 1100 lbs. He was also beyond filthy, but as I had remembered him, he was quiet and calm. He stepped quietly off the trailer into a large sandy pen with fresh food and water, and he slept for a week.

Even when he was unsure of his surroundings, he had never shown a moment of anger or complaint.

When I look back, he has truly lived up to his name in every respect. Peacemaker, along with Ghost, is now a Sweetbeau Ambassador. It's not fair to ask these majestic creatures who lived long lives of power, freedom, and survival to become an adopted working horse. Rehoming such horses is too stressful and confusing for them. They have paid their dues and deserve a home that respects and wants to preserve who they are. As importantly, Peacemaker is truly the face and the story of what a mustang can be...his eyes tell the story of loss but also a shy acceptance and actual joy in finding a new life, and he is with Sweetbeau for some mystical reason if you ask me. He is adored, he is spoiled, and he shows his gratitude in wanting to learn and please. He wears a saddle; he likes the young interns to get on and slip off his bareback over and over. He kicks the ball and knows target training well and can side pass right up to the mounting block from a dozen feet away at liberty. When he isn't having a training session where he receives his favorite "cookies" as positive rewards for his efforts, he is in a very large pasture with Ghost and a few other youngsters from their herd in the wild. In the pasture, Peacemaker still hangs on the fringe of the action, but no horse or human intimidates or disrespects the big red horse. We are all so grateful to have his presence. Like Ghost, he will live the rest of his life at Sweetbeau with all the room and pasture-mates he needs to feel as free as possible.