Join Us For A

Mustang Experience to Remember

Settled in the tiny community of Creston, California Sweetbeau Horses ranch is an oasis in time. It has been called a portal of healing by "Hidden Pearls" pod cast celebrities after a weekend PTSD therapy event. You will pass quiet cattle ranches and vineyards as you drive to the gates that open to a magical world where mustangs and humans can heal their spirits.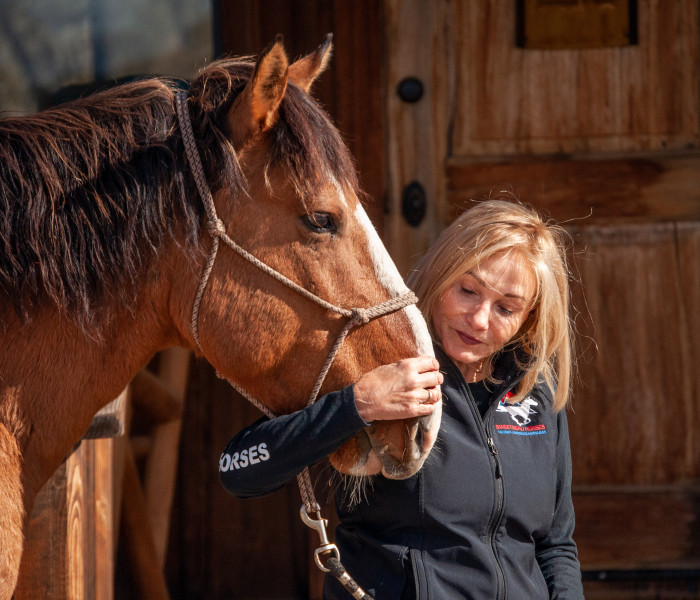 Meet A Mustang
What you will experience when you look into eyes of a once wild Mustang, is different for everyone. They inspire the imagination as they silently tell the story of their lives as free spirits living solely on instincts evolved over 55 million years. You might catch a glimpse of an open range that stretches as far as the eye can see. Your heart may race with the thunder of a herd racing across the open plains. You might hear the soft nickering between a newborn foal and his mother in the moments after he is born. Though their strength and power could easily overwhelm the strongest human, there is an empathy and kindness that can forge the deepest bond with humans they find worthy.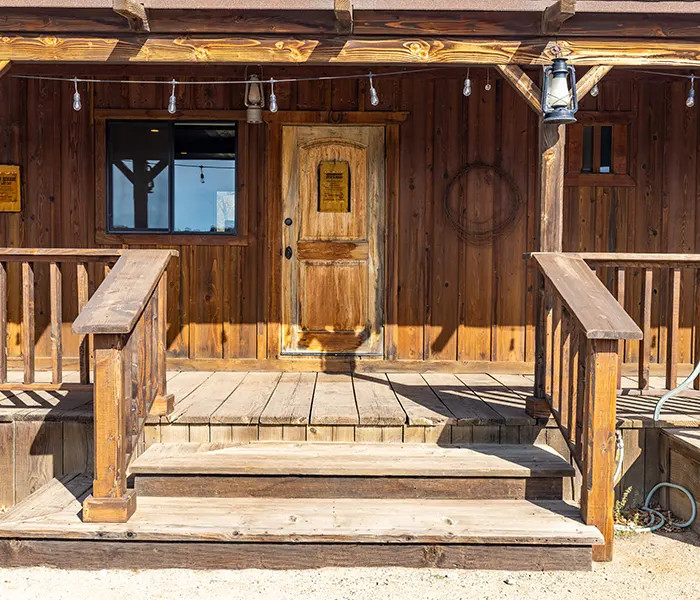 Come Stay In

Our Bunkhouse

Let us plan your magical weekend: From the front porch you can relax in your rocking chair and watch the horses in training living in peace. Look out the kitchen window and you are just a dozen feet away from where one of our trainers may be gentling a wild arrival. You will enjoy the comfort of 2 private king-size bedrooms and a bunk room with 2 twin beds and 2 bunk beds, a spacious kitchen, a private BBQ and picnic area and "The Duke" saloon is open to guests over the age of 21.
We Welcome

Individuals and Groups

Woman's retreat, photographers, summer camp groups, families, friends, and just people who need a break from the drama of their world. Our adventures are planned just for you by our event management team and there is the perfect day waiting for everyone.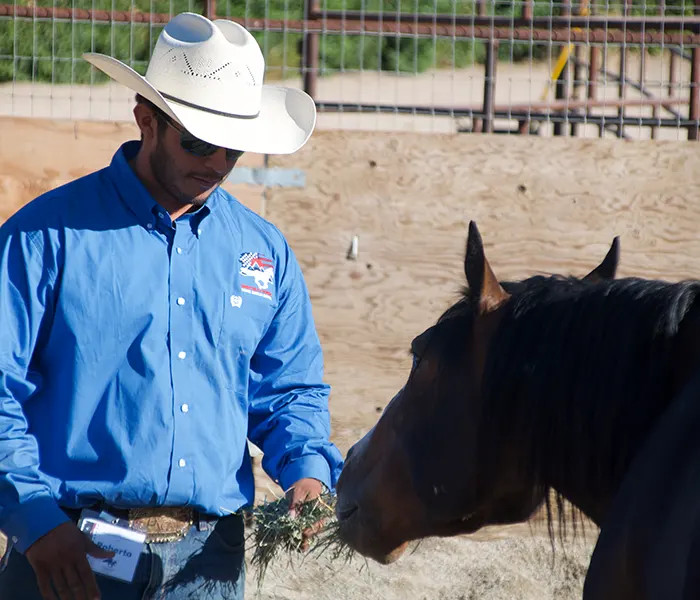 Mustang Encounter
Spend your morning in a private clinic with our world acclaimed lead trainer Roberto Flores. You will witness the secret of communication with a mustang that is being given the second chance for a joyful life. Roberto will open the door and gently encourage them to walk into our world bringing their story and their dignity. Then step in and put your hands on a living legend.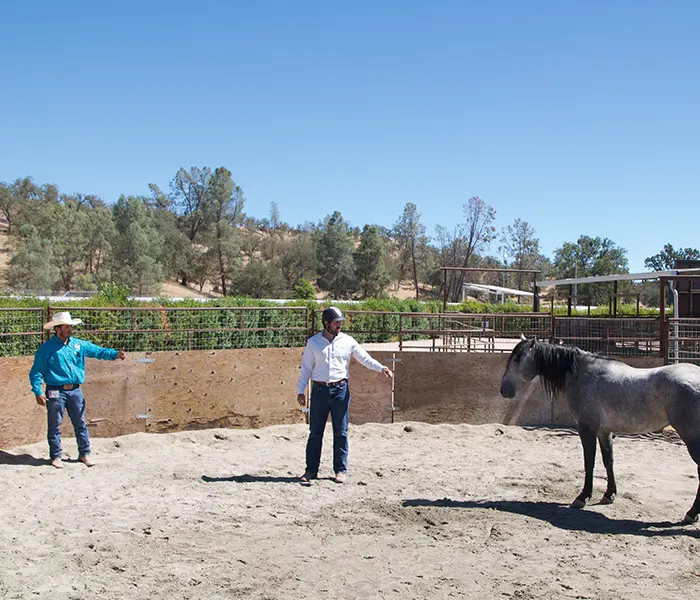 Learn the Dance
In the round pen, we begin "the dance" with our new arrivals to gently guide them to follow our lead and enjoy the experience. Our trainers will guide you to speak to the mustang, and be amazed as the mustang connects with you, responding to your body language and literally to your thoughts.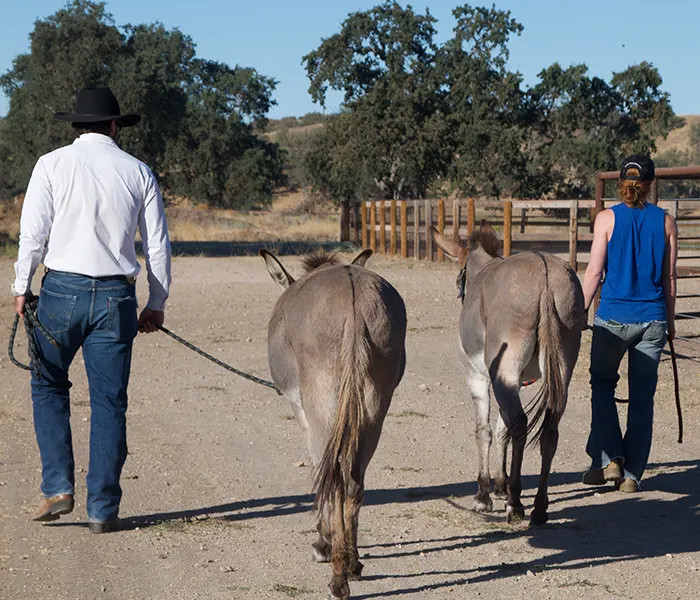 Donkey Hike
Answer the calls of Simone and Sweetpea begging to be taken for a hike to the top of the hill. These inseparable sisters have been together since birth. At 12 years old, they melt when given any attention, affection and grooming. They may choose to put their heads down and eat or trot after you up the road. They comically live up to the reputation that donkeys have a mind of their own.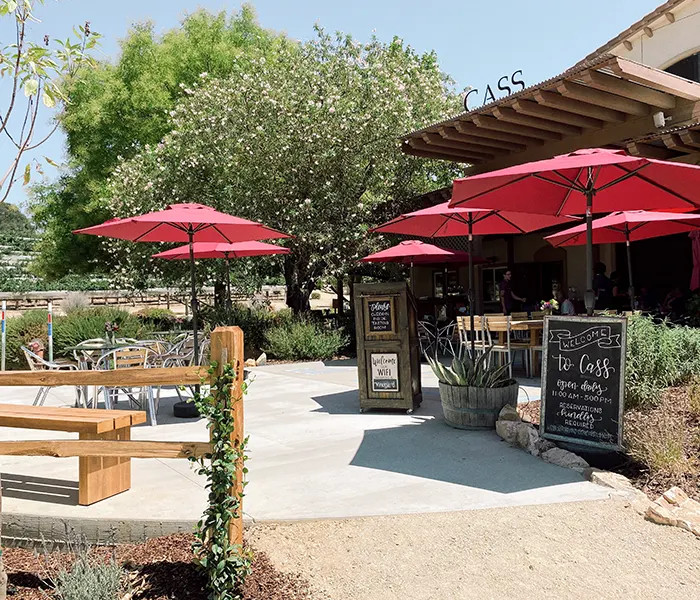 Wine and Dine
Take advantage of the world-famous wineries and dining experiences in Paso Robles, and all the way over to Morro Bay and San Luis Obispo. All from 20 minutes to less than an hour away from Sweetbeau Horses ranch. Globally known names (Daou, Justin and Sculpterra) share the beautiful area with local hidden gems that you will only find on an adventure through the oak studded rolling hills of the central coast.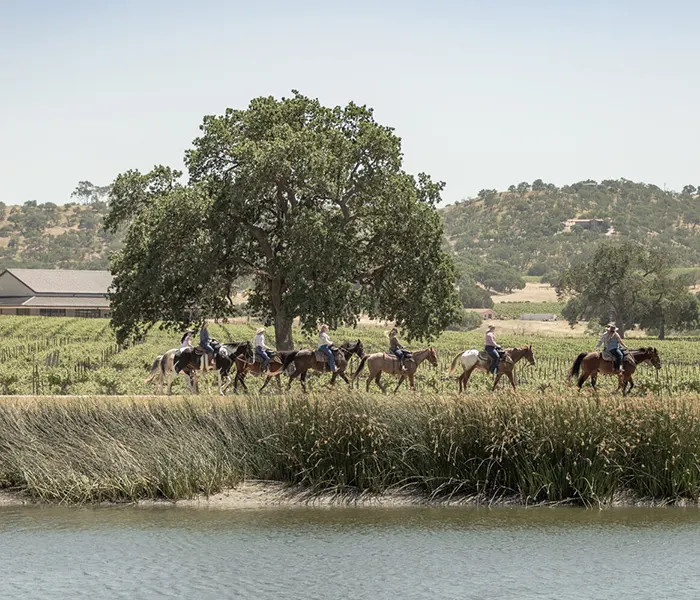 Trail, beach or wine tasting tour rides
Although our mustangs are not ready for some of these trips, our local and amazing friends at Central Coast Riders have beautiful horses and adventures they can plan for you. Let Crystal and Brian show you some beautiful views from between a horse's ears. Whether it's the beach, a trail or a wine tasting tour on horseback, it will be a day to remember.
For more information, or to make your reservation please call 805-591-9083.